Zingoy Rupay Prepaid Card
Gifting, Employee Recognition, Personal, and more along with Exciting Rewards! Best Prepaid Card in india
Zingoy Rupay Prepaid Card - Reloadable
| | |
| --- | --- |
| | Reloadable upto 2 years. |
| | Earn upto 2% extra cashback with ZingCoins. |
| | Apply with just a Single Document. |
| | 10K Monthly Transaction Limit upgradable to 2 Lac. |
| | Earn Cashback via. ZingCoins upto Rs. 2000 |
| | Accepted by All Rupay Merchants. |
BUY NOW
REGISTER CARD
Zingoy Rupay Gift Card
| | |
| --- | --- |
| | Shop across 20 Lakh+ Online & Retail Merchants. |
| | Get Access to Exclusive Zingoy Cashback Offers. |
| | Quick Operations for Hassle-free Transactions. |
| | Pleasing Gift-friendly Design suitable for All Audiences. |
| | Load any Amount of your Choice. |
| | Among the Best Prepaid Cards in india. |
BUY NOW
REGISTER CARD

BUY NOW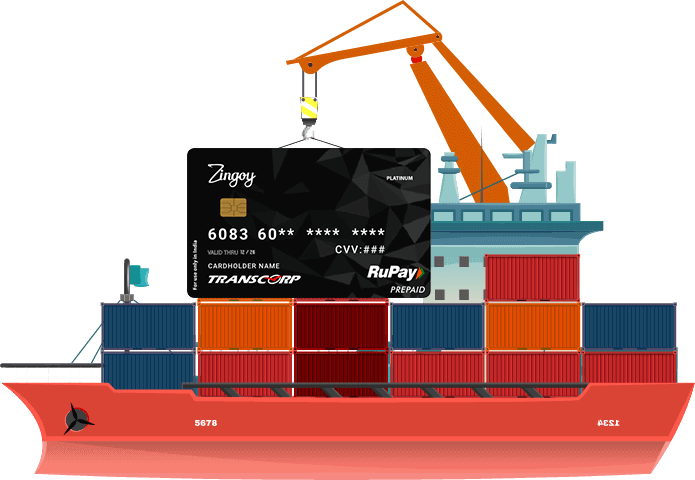 Looking for RuPay Prepaid cards bulk orders?
About Zingoy Rupay Prepaid Card
Zingoy Rupay Prepaid Card meaning is nothing but a hassle-free payment card for Gifting,Employee Recognition, Shopiing, Food, Entertainment, Travel, Fuel, and much more. Moreover, it gets you exclusive Zingoy Cashback offers, Spening Rewards, Gift Card discounts, and other exciting benefits. This is why it is among the Best Prepaids Cards in india 2021. It also comes up with Best Prepaid card offers frequently. Besides, if you are looking for Reloadable Prepaid Cards in india then you search ends here. You can get it in the form of Physical prepaid card india and Virtual prepaid card India. Therefore, It is among the Best Rupay Prepaid Cards in Indiaso what are you waiting for? Grab Now!
1.

How to use Zingoy Rupay Prepaid Card?

Simply load your required amount in the Zingoy Rupay Prepaid Card and transact the same way you do for credit and debit cards.

2.

How much Money can be loaded in a Zingoy Rupay Prepaid Card?

It should be Minimum ₹500 to ₹10000. Make a note that Zingoy Rupay Prepaid Cards cannot be loaded more than once.

3.

How to Make Payment for Zingoy Rupay Prepaid Card?

You can add money in your Zingoy Rupay Prepaid Card via Zingoy.com and Zingoy mobile app. You may also get payment offers for cashback and/or discounts.
Terms & Conditions